Breast augmentation is a procedure that increases the size of your breasts. It includes inserting artificial implants under the chest muscles or breast tissue or injecting fat to add volume.
This surgery is best done by a qualified Plastic Surgeon and one needs to be aware of the merits and demerits of this surgery.
Breast augmentation can be beneficial to any woman who:
Desires to Enhance the size of her breasts at any age.
Post-pregnancy wishes to enhance the volume of breasts
Wishes to correct gross asymmetry of breasts as in a condition called tuberous breast. Discuss your objectives with the cosmetic surgeon to be realistic about the benefits of breast augmentation.
Now let us see the breast augmentation surgery procedure:
Breast size can be augmented by two methods:
Insertion of implants
Injection of fat
Breast augmentation with implants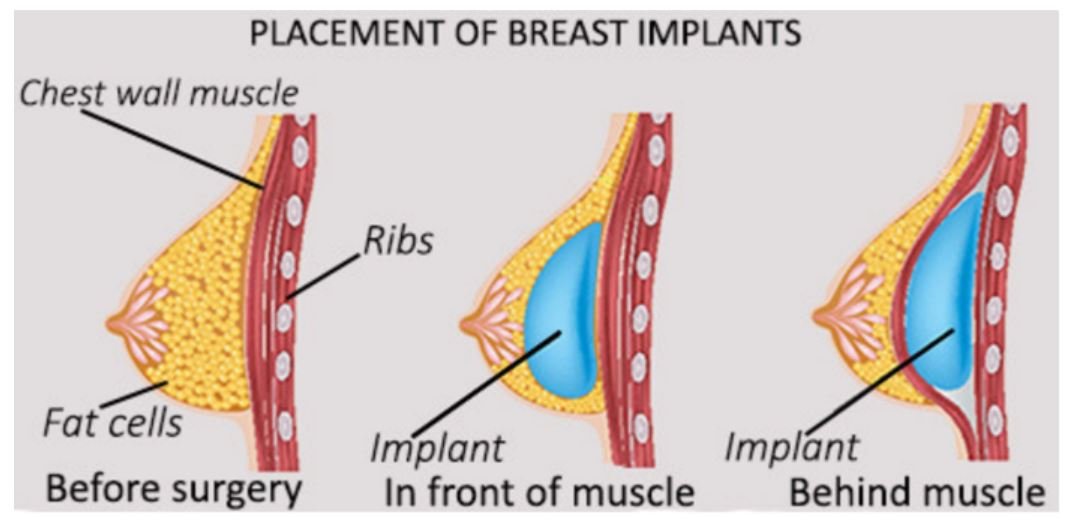 Here silicon implants are used to augment the breasts and they are placed either below the breast tissue or between the chest muscle (pectoralis) and the ribs. The implant is selected based on the volume desired and the rest of body proportions. Sizers are available the patient can try on to understand the post-operative result.
Anaesthesia : General
Duration of hospitalization : Daycare surgery
Incision : 5 cms long under the breasts, which is well concealed..
Merits :
single staged procedure
Immediate results
Not associated with the development of breast cancer
Demerits:
very low possibility of implant infection or formation of a capsule around the implant.
Breast augmentation with fat:
You can have breast augmentation surgery using your own body fat. Liposuction is a process that removes fat from your thigh or belly. The solid fat is purified and transformed into a liquid nano fat that can be injected.
Your plastic surgeon will determine the required amount of fat before the surgery. Then as per the requirement, your doctor extracts the fat with the help of a liposuction technique.
Then the nano fat is evenly inserted into both of your breasts using specialized injectable devices.
Anaesthesia: General
Duration of hospitalization: Daycare
Merits:
no artificial or synthetic material inserted into the breast
You get additional debulking of the belly or thighs with breast augmentation
No chances of infection or extrusion as no artificial structure is used.
Demerit:
The procedure may have to be repeated as the volume of fat injected shrinks by 30-40% over 3-4 months and then stabilizes. Hence repeating the procedure of injecting fat twice or at times three times will ensure volume desired
You must consider the following factors when deciding to have breast augmentation surgery:
Breast implants would not make your breasts less saggy. To fix sagging breasts, your plastic surgeon can do an additional breast lift or mastopexy surgery augmentation.
Breast implants do not have a lifetime warranty. An implant's estimated lifespan is about ten years. Furthermore, your breasts will begin to age, and factors such as weight gain or loss will alter the appearance of your breasts. These problems would almost certainly lead to a future surgery.
Post-surgery care:
The post-operative period is often uneventful, with not much pain or discomfort.
The patient can go about
In case of any fever or increased pain, to inform sos.
What complications you can face after the treatment:
The complications you may experience are as follows -
(i) Implant-related issues:
Implant infection which is quite rare following augmentation surgery.
Capsular contracture may happen, again it's rare. Not associated with the development of breast cancer.
(ii) Relating to fat grafting
There is a rare chance of infection or bleeding after the treatment. The patient may experience some discomfort post-surgery.
Revision Surgery: Within six months of injection, your body absorbs 30-40% of the grafted fat. As a result, following the first surgery, there will almost always be some loss in breast volume. Hence, you may need further sessions of fat grafting to achieve the desired result.