Dr. Leena Jain is a leading reconstructive microsurgeon in Mumbai. She is a qualified plastic surgeon who performs free tissue transfers and reattaches severed parts along with composite tissue transplantation.
As an expert reconstruction microsurgeon, Dr. Leena Jain performs these surgical procedures with extreme precision. She is available for consultation at her plastic surgery clinic in Mumbai.
What is microsurgery?
Microsurgery is a surgery performed under a microscope as the surgeon can get a magnified view of the surgical site. It is far more precise and helps the plastic surgeon effectively and safely.
Microsurgeons use special operating microscopes that help transplant tissue, bone, or muscle from one part of the body to the other. Similarly, they can reattach severed fingers and limbs.
Microsurgeons rely on the operating microscope to magnify the surgical area, especially the donor area's blood vessels and nerves, and carefully reattach it. The microsurgeons ensure that the transplanted tissue survives in the new location while restoring its sensitivity and motor function..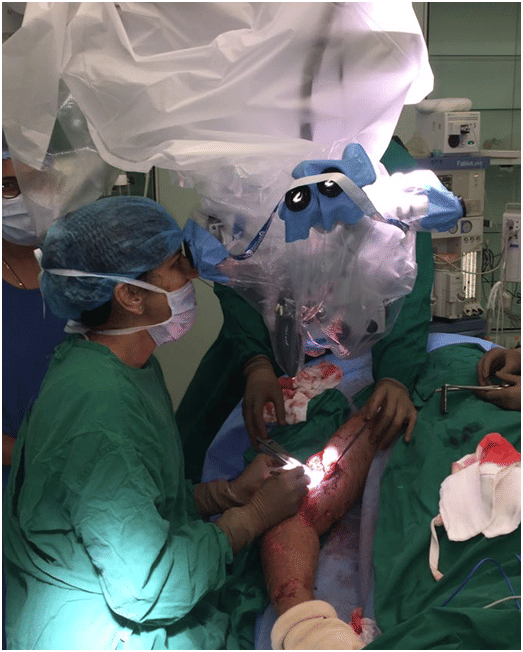 Microsurgeons take tissue from the back, either thighs or arm of the leg to perform reconstructive surgery on toes, tongues, fingers, hands, nose, scalp, ears, and so on. They also use it to reconstruct breasts or reattach fingers. The role of a microsurgeon is very much crucial in the treatment of trauma and cancer cases.
Dr. Leena Jain is an adept plastic surgeon in Mumbai with expertise and experience in plastic and reconstructive surgery. She performs the following microsurgery procedures –
Reconstruction
Head and neck reconstruction
Lymphatic reconstruction
Complex wound reconstruction
Replantation : Digit/ toe/ hand
Toe Transplantation
Functioning free muscle transfer for certain types of muscle paralysis
Vascularized bone flap transfer
Nerve repair and grafting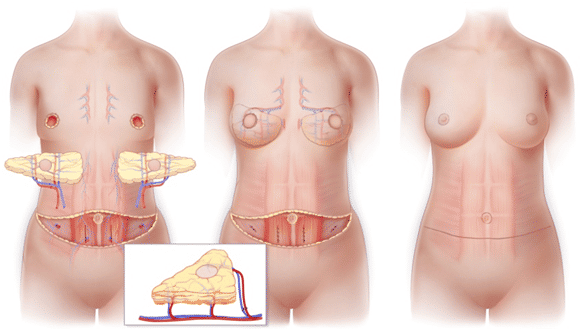 Reconstructive Microsurgery procedure
Dr. Leena Jain, a microsurgeon in Mumbai, explains the Reconstructive Microsurgery procedure. Dr. Leena Jain will assess the patient's defect to be reconstructed, and medical and other surgical issues. She will analyze in-depth the defect that needs reconstruction- bony, soft tissue, nerve, tendon, etc.
She will also suggest the reconstruction options along with the advantages, risks, and complications to enable the patient to make an informed decision. Reconstructive surgery is performed under general anesthesia/ regional anesthesia. The patients need to be assessed for fitness for surgery and anesthesia.
Dr. Leena Jain will define the defect area (pre-existing or due to trauma or resection) that requires reconstruction. The flap is raised from the donor site and the defect site and vessels are prepared. The flap is then sutured into the recipient site and the donor site is closed. Using the microscope, the flap blood vessels are sutured with recipient site vessels.
A microscope enables a precise suturing of the lumens of vessels such that circulation is restored through them into the flap in the new position and aids in wound healing. This is called microvascular surgery.
In the case of micro neurosurgery, transferred nerves are sutured end to end or end to the side of donor nerves. In case of micro lymphatic surgery, lymphatics identified and dissected using a microscope and are joined to veins to provide a drainage system.
If required, drains are placed to allow the excess fluid or blood to flow out and/or monitor the site for infection or post-operative bleeding
Risks, Complications, and Post-operative care
Reconstructive microsurgery procedures are extremely complex procedures with their share of risks and complications. The first 72 hours after the surgery are critical, and the patient will be continuously monitored for blood circulation in the flap transferred or digit reattached.
Clots can form at the site of sutured vessels, if a clot forms, then blood flow is obstructed into the flap and this will jeopardize it. Monitoring of flap is thus essential. If one detects an issue with the blood flow in an artery or vein, the patient is taken back to OT to rectify it. It takes about 5-7 days for maturation of the stitch line of vessels. Dr. Leena Jain will discuss the likelihood of postoperative complications before the reconstructive surgery:
These could include :
Bleeding at the operated site,
Partial or complete flap failure
Wound infection.
Who is eligible for microsurgery?
It is possible to perform reconstructive microsurgery to restore any defect from the head to the toes. Patients with congenital defects, burns, or trauma defects, cancer resection can reform and reconstruct their defects through microsurgery.
Dr. Leena Jain has performed procedures to cover and restore defects of the vessels, bones, and tendons, especially in hand and head, and neck regions. Microsurgery is required for reattachment of severed body parts, toe transfers to hand, brachial plexus
Also, it is most commonly performed for complex defects exposing vital structures such as vessels, bone, and tendons, when robust coverage is required, such as in the head and neck region, or when function and aesthetics are restored using pedicled or free flaps.
Dr. Leena Jain is an eminent microsurgeon in Mumbai who has performed reconstructive surgery to restore the functionality or the aesthetics of body parts affected due to trauma, developmental abnormalities or health conditions or congenital defects.