Mumbai doctors reattach boy's thumb in 6-hr surgery

Published on 16th Jul, 21
A 12-year-old boy has regained 50% of his thumb movement a month after it was severed and doctors at Mumbai's Wockhardt Hospital performed a six-hour replantation surgery at midnight to reattach it. With the Covid-19 protocol in place, doctors in personal protective equipment (PPE) performed the delicate surgery, which involved connecting minuscule veins under a high-tech microscope.
Read More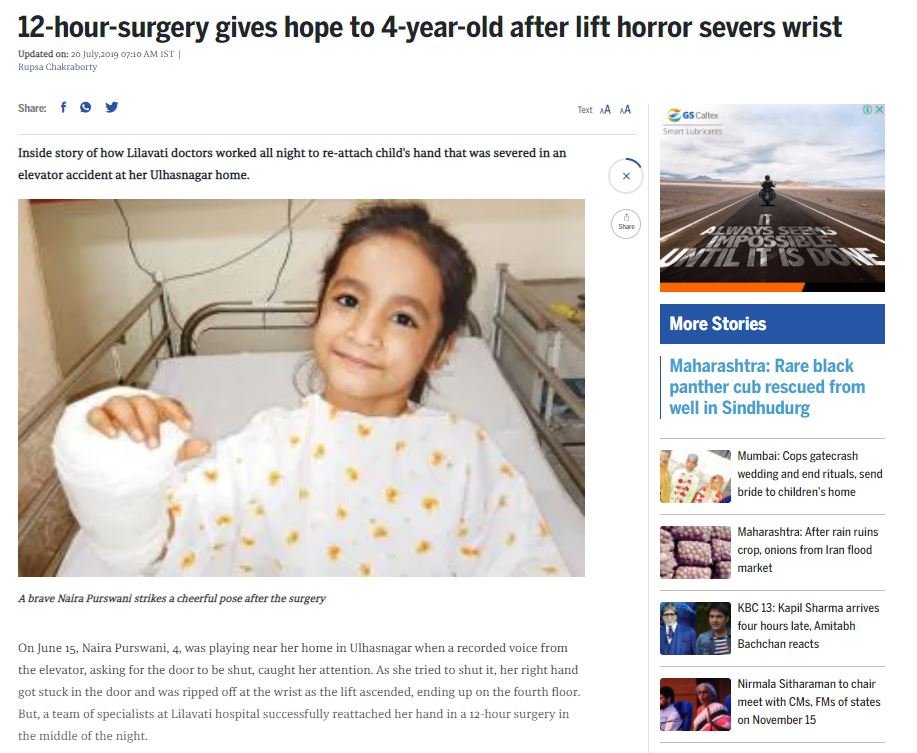 12-hour-surgery gives hope to 4-year-old after lift horror severs wrist

Published on 20th Jul, 19
On June 15, Naira Purswani, 4, was playing near her home in Ulhasnagar when a recorded voice from the elevator, asking for the door to be shut, caught her attention. As she tried to shut it, her right hand got stuck in the door and was ripped off at the wrist as the lift ascended, ending up on the fourth floor. But, a team of specialists at Lilavati hospital successfully reattached her hand in a 12-hour surgery in the middle of the night.
Read More