Pregnancy, extreme weight loss, or age can cause unsightly skin folds in the abdomen, altering the body's contour and aesthetic look. Even after following a balanced diet and exercising regularly, many people fail to lose their extra belly fat.

Tummy tuck surgery or abdominoplasty may be ideal for those who desire a flatter and firmer belly or a toned figure.
A tummy tuck is a surgical procedure that involves removing extra fat and skin from the abdomen. In addition, it includes strengthening the weak muscles to create a smoother and tighter torso profile.
Our proficient plastic surgeon, Dr. Leena Jain, performs advanced and result-oriented tummy tuck surgery in Mumbai. Besides, she is a highly qualified and seasoned plastic surgeon in Mumbai, giving an excellent cosmetic and functional outcome for complex injuries and conditions requiring reconstructive surgeries. Moreover, she is skilled in microsurgeries, nerve surgery, hand surgery, and breast surgery.
First, let's understand the ABC of the tummy tuck,
A. What is tummy tuck surgery, and how does it work?
Tummy tuck or abdominoplasty is a surgical procedure through which excess abdominal skin with underlying fat is removed, rest of abdominal wall skin is tailored and sutured back while the lax/ untoned abdominal wall muscles (abs) are tightened by hitching them together. This procedure is suggested to give improve the contour of the abdomen but it is not an ideal weight-loss option.
Now, let's know,
B. Who can proceed with the tummy tuck procedure?
Men and women can both proceed with a tummy tuck procedure provided they are healthy and have a healthy lifestyle inclined towards maintaining a normal BMI and weight. It is recommended for women whose abdominal muscles become lax while their skin and fat are stretched on account of multiple pregnancies. It is also performed on people who have lost considerable weight and thereby have sagging skin and skin folds and asymmetric fat deposition in the abdominal area.
C. What are the Benefits of Undergoing Tummy Tuck Surgery?
Tummy tuck surgery helps to improve the body contour.
It also helps reduce stress and urinary incontinence after vaginal delivery.
A tummy tuck can also prevent the recurrence of hernias.
It enhances the appearance and boosts confidence.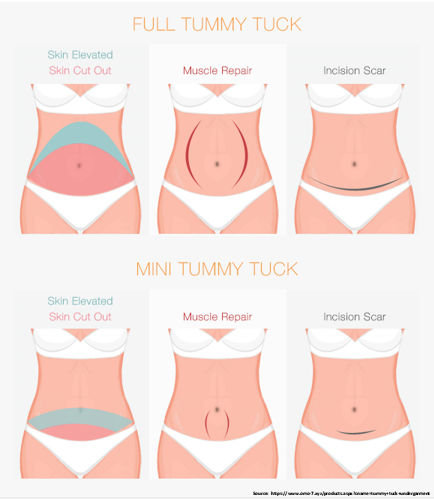 We will discuss in detail:
Preparation for tummy tuck surgery
Tummy tuck surgery details
Post-procedure care consultation and Preparations for a tummy tuck surgery
1. Consultation and Preparations for a tummy tuck surgery
Initially, the patient must visit and consult a plastic surgeon to discuss the treatment, procedure, its pros and cons and how to go ahead with the tummy tuck surgery.
The surgeon will perform a physical examination to determine whether the patient is a good candidate for tummy tuck surgery. If yes, then the plastic surgeon will give precise instructions to the patient regarding surgery preparation which includes:
Avoid aspirin and other specific medications that can cause complications during the surgery.
Stop smoking several weeks (at least 4-6 weeks) before the surgery
Consume balanced and healthy meals and initiate a weight loss program if overweight.
Medical co-morbidities to be checked and physician to be consulted if required.
2. Tummy tuck procedure
This procedure requires hospitalization and may take about three to four hours to complete. It is performed under general anesthesia. The surgeon will make an incision in the bikini line such that the scar will remain concealed by undergarments and blends with the natural crease there. Markings are done to determine the excess tissue to be removed and tailoring of the remnant skin. The umbilicus will be repositioned suitably. It may be combined with liposuction which is done first followed by abdominoplasty.
Types of abdominoplasty or tummy tuck procedures
Complete abdominoplasty – As the name suggests, the plastic surgeon works on the entire abdomen to give it the desired shape. The surgeon will work on the abdominal muscles, reposition the umbilicus and trim the excess skin and fat .f required, drainage tubes will be placed under the skin which will be removed in a couple of days.
Partial or mini-abdominoplasty – This procedure requires a small incision while the belly button will not be worked upon as the patient has relatively less excess skin only below the umbilicus.
Circumferential abdominoplasty or extended abdominoplasty – In the procedure, the surgeon works on removing the extra fat deposited in the abdomen and also on the back. In this way, the surgeon improves the overall shape of the torso.
3. Post-procedure
The surgical site will have a waterproof bandage. .. Patient will be mace to walk the same evening or the next day. Drains are removed once the drainage if less than 30 ml, usually after 2-3 days of surgery. Patient is usually hospitalized for 2-3 days on average, depending upon the extent of abdominoplasty and liposuction. Follow up after 5-6 days to assess the suture line. Usually, absorbable sutures are placed internally, hence there is no need of suture removal. The patient is instructed to wear a compression garment for 3-4 months for better contouring of the abdomen.
Recovery Steps for Tummy Tuck:
Patients are advised to take complete rest for at least one week after the surgery and slowly return to normal work. Also, strenuous exercises should be avoided for at least four to six weeks after surgery. The patients need to maintain a balanced diet and good hydration during this period.
IF YOU WANT TO SEE THE REAL TIME BEFORE-AFTER IMAGES OF OUR PATIENTS, THEN CLICK HERE.